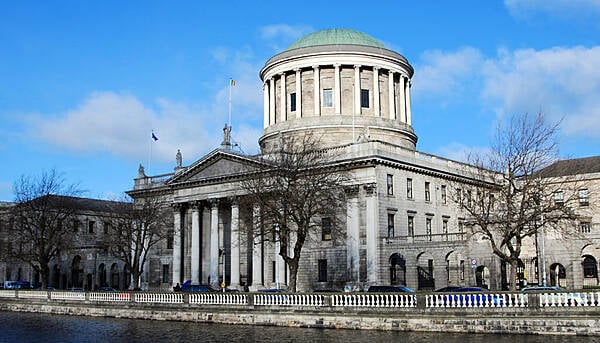 High Court reporters
The High Court has granted a declaration that the HSE has a continuing duty to provide mental health treatment to a former prisoner whose local mental health service considers him too violent to treat.
However, Mr Justice Charles Meenan also found the man had not established any basis for challenging the decision of his community health service provider to refuse to treat him because of the risk of violence.
The man, who has a history of violent offending and psychotic illness, was released from prison in 2019 having served six years for a random knife attack in Grafton Street, Dublin, which left two men seriously injured.
While in prison, he was first diagnosed with schizophrenia and received treatment which was similar to what he would have received if detained under mental health legislation.
It included what are called "depot injections", a slow release medication which lasts longer than tablets.
He made considerable progress with this treatment and it was accepted that after he left prison, it needed to be continued.
Release
For that reason, he was referred to a HSE community mental health team on his release.
Following his release, he committed a number of other offences including attempted robbery in Dublin city centre for which he is awaiting trial.
The doctor in charge of the community mental health service considered him to have such a high-risk profile that he could not be offered treatment within the service.
The doctor said the risk of violence from him remained at a very high level and he (doctor) was not prepared to subject his staff and other service users to such risk.
The man and his own GP disputed the doctor's opinion.
He brought a High Court challenge against the HSE claiming, among other things, that there was no legal basis for refusing him community care, that he was being discriminated against and his constitutional rights were being breached.
Care plan
He also invited the court to direct the HSE to provide a particular care plan for him in the form of community based mental health services.
The HSE opposed the challenge.
The court heard that just before the hearing of his case began, the HSE offered him an appointment for treatment at the National Forensic Mental Health Service in Portrane.
This meant he would be subject to security measures including a metal detector scan and a team from the forensic service to escort him for his depot injection.
On Thursday, Mr Justice Meenan said he could not find any breach of any constitutional right. If the man did enjoy such rights they would not be absolute and any interference of such rights would have to be proportional, he said.
He was satisfied the decision of the community mental health service was reasonable and proportionate. The man's requirements were outweighed by the requirement to provide for the security and safety of those giving the medical treatment and other persons who might be present when such treatment is being given, he said.
He also noted that, although it was on an "ad hoc" basis, further arrangements have been made for him to continue to receive depot injections.
The judge also found he was not discriminated against.
However, he said, as the ad hoc system for giving him the treatment he required was ad hoc, there was a possibility it may cease.
Therefore, the judge said, the man was entitled to a declaration to ensure that this will not happen.
The judge therefore granted a declaration that the HSE was "under a continuing duty" to provide him with appropriate mental health treatment in accordance with law.
He noted the making of this declaration, and the bringing of the case itself, would not have been necessary if Ireland had legislation, similar to England and Wales, for the making of orders for care in the community to cover cases such as this.