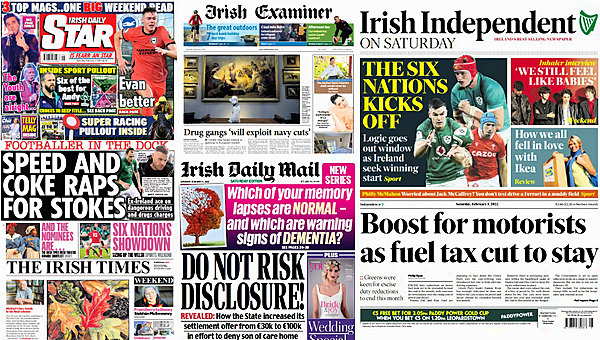 Refugee accommodation, calls for prison care review and a look ahead to Ireland's Six Nations opener are some of the front-page stories in Saturday's national newspapers.
The Irish Times reports: 'Protest fears stop hotels hosting refugees', while the Irish Examiner covers Minister for Integration Roderic O'Gorman's pleas for buildings to accommodation international protection applicants.
The Echo covers recommendations for a review into prison care following the death of a man in Cork Prison.
Meanwhile, the Irish Daily Mail claims the State increased a settlement offer in order to avoid giving the son of a nursing-home resident access to 'sensitive material'.
The latest damning evidence in the illegal nursing home charges scandal… in Saturday's Mail pic.twitter.com/NLp39yEUlf

— The Irish Daily Mail (@irishdailymail) February 3, 2023
The Irish Independent's headline reads: 'Boost for motorists as fuel tax cut to stay', following comments from Minister for Finance Michael McGrath that some of the cost-of-living measures announced alongside Budget 2023 will remain in place past the end of this month.
Good morning, here's the front page of today's Irish Independent pic.twitter.com/8ntAv6XDCI

— Independent.ie (@Independent_ie) February 4, 2023
Finally, both the Irish Daily Star and Irish Daily Mirror report on the court appearance of former Republic of Ireland striker Anthony Stokes, who was remanded on bail on Friday after being charged relating to alleged drug and dangerous driving incidents.
In Britain, the front pages cover the case of missing mother-of-two Nicola Bulley, as well as carrying headlines on online misogyny and a comedian's comments on Britain's deputy prime minister Dominic Raab.
The Guardian has an interview with a whistleblower who helped expose the British government's chaotic response to the fall of Kabul and warns the Civil Service has become dangerously politicised.
Guardian front page, Saturday 4 February: Kabul chaos whistleblower sues ministers after sacking pic.twitter.com/TjGVsezT56

— The Guardian (@guardian) February 3, 2023
The Independent has comments from comedian Nish Kumar, who claimed Mr Raab has been unable to "differentiate between different Asians" after he apparently confused him with the brother of anti-Brexit campaigner Gina Miller.
Saturday's INDEPENDENT Digital: "Now top comedian says Raab 'can't tell Asians apart' " #TomorrowsPapersToday pic.twitter.com/sAbfqL8Jz8

— Allie Hodgkins-Brown (@AllieHBNews) February 3, 2023
The Daily Telegraph reports a British government source as saying culture secretary Michelle Donelan believes the Online Safety Bill has the power to put a stop to attacks on women on the internet.

🗞 The front page of tomorrow's Daily Telegraph:

'Online misogyny set to be outlawed'#TomorrowsPapersToday

Sign up for the Front Page newsletter ⤵️https://t.co/x8AV4Oomry pic.twitter.com/YP7faXI42D

— The Telegraph (@Telegraph) February 3, 2023
The Sun says police are working on the theory that missing mother Ms Bulley might have been trying to retrieve her dog's ball when she possibly fell into the river while out for a walk in Lancashire a week ago.
On tomorrow's front page: Nicola Bulley cops probe riddle of missing dog ball among five unanswered questions about mum-of-two's disappearancehttps://t.co/zxV8gVgxo8 pic.twitter.com/DlGmr3HDNA

— The Sun (@TheSun) February 3, 2023
The Daily Express reports former British prime minister Boris Johnson has insisted tax cuts are the key to winning the next General Election.
Saturday's front page: Boris – Tax cuts will win Tories next electionhttps://t.co/42BgIEkQtL#TomorrowsPapersToday pic.twitter.com/vl45dId4Xq

— Daily Express (@Daily_Express) February 3, 2023
The Daily Mirror says female stars refused to work with Jeremy Clarkson after comments he made about Meghan Markle in a newspaper column, with a Who Wants To Be A Millionaire? celebrity special resultingly shelved.
Saturday's front page: Women stars revolt on Clarkson#TomorrowsPapersTodayhttps://t.co/yQ9mr1I0Gs pic.twitter.com/zusN1oBhVm

— The Mirror (@DailyMirror) February 3, 2023
The Times reports the British Home Office is looking at two possible legal options to help with British prime minister Rishi Sunak's plan to bar people who arrive in Britain illegally from claiming asylum.
Saturday's TIMES: "Appeals ban for migrants who reach UK illegally" #TomorrowsPapersToday pic.twitter.com/USYw68Egys

— Allie Hodgkins-Brown (@AllieHBNews) February 3, 2023
The FT Weekend carries the news that the FTSE 100, the index of the UK's largest publicly-listed firms, hit an all-time high on Friday.
Just published: front page of the Financial Times UK edition Saturday February 4 https://t.co/JB8r28kJaS pic.twitter.com/AzyCA8tlqk

— Financial Times (@FinancialTimes) February 3, 2023
The Daily Mail also leads with the mystery of Ms Bulley's disappearance, carrying a comment from her partner who described the incident which has resulted in a week-long search operation as "insane".
Saturday's Daily MAIL: "Did Nicola Slip Into The River Going After Dog's Ball?" #TomorrowsPapersToday pic.twitter.com/haGrM15OPh

— Allie Hodgkins-Brown (@AllieHBNews) February 3, 2023
And the Daily Star tells the tale of what it describes as a "grouchy" owl, which has left people afraid to leave their homes in the West Midlands following a series of attacks.
They're holding us hooostage on Saturday's front page 😅🦉https://t.co/Q0IhRcyFEP#TomorrowsPapersToday pic.twitter.com/aCeuF1aOnp

— Daily Star (@dailystar) February 3, 2023