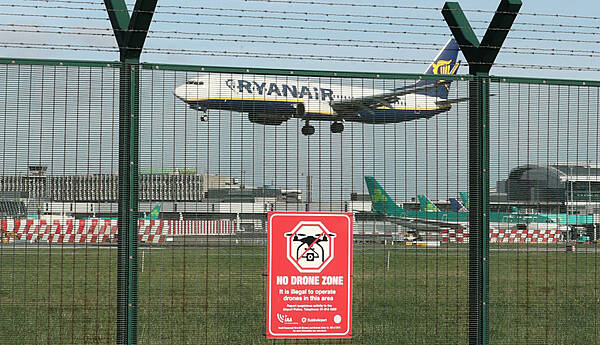 By Gráinne Ní Aodha, PA
The Dublin Airport Authority (DAA) is calling for "draconian sentencing" to be brought in for people who illegally fly drones over Irish airfields.
It comes after there were 16 disruptions to flights at Dublin Airport over the three-day weekend due to drones, despite it being illegal to fly a drone within 5km of an airport.
Despite the airport having a drone detection system in place, which gives early warning of illegal drone activity, there is no system to bring the drones down.
On Tuesday evening, Minister for Transport Eamon Ryan and Minister of State Jack Chambers met with the DAA – the operator of Dublin Airport – as well as the Irish Aviation Authority, the Department of Justice and An Garda Síochána.
Drone Zones in Ireland [UAS Geographical Zones]. Remember: Drone safety is your responsibility – know the risks and where you can fly: https://t.co/9ZKVeFdv7z pic.twitter.com/br54l3koM0

— IAA (@IAApress) February 8, 2023
He said that the DAA made two recommendations on what action the State should take: introduce technology to signal-jam or bring down drones safely, and increase the maximum sentences for people who illegally fly drones over airfields.
Fine Gael TD Colm Brophy had on Tuesday argued that Dublin Airport should be made liable for costs to an airline if it did not ensure the airport was drone-free, but DAA chief executive Kenny Jacobs said that the matter was State-wide, and the patrolling of drones lies more under the remit of the departments of Justice or Defence than Transport.
Referencing what is done in other jurisdictions, Mr Jacobs said that the anti-drone system implemented after drone disruption at Gatwick Airport in 2018 is operated by the Metropolitan Police in London.
The incident, during the peak of the Christmas period, led to the airport being closed for 30 hours, disrupting 1,000 flights and more than 140,000 passengers.
"That is a defence system that allows the police – in the case of London – to take control of a drone, send it back where it came from, jam the signal, or they can bring it down if they have to," he told RTE's Morning Ireland programme.
Mr Jacobs also said that the French military is overseeing the use of drones during the upcoming Rugby World Cup this autumn.
Last month was Dublin Airport's busiest January ever with just over 2.1 million passengers passing through. That number was 2% higher than in January 2019 – the previous record January – and more than double (113%) the numbers seen in January 2022. ✈️ pic.twitter.com/VcPseC1XoZ

— Dublin Airport (@DublinAirport) February 8, 2023
"Last weekend this was managed, as it should have been, from a safety point of view to ensure that passengers are safe, and that is the robust procedure that is place," he said. But he added that "the State can do other things".
He said this included anti-drone technology and increasing the maximum sentence of seven years to a life sentence or the charges to reckless endangerment.
"You're using the frequency that the drone is controlled with, you're overriding it and bringing it down," Mr Jacobs said, in describing how the technology operates.
He added: "The system that we have to detect drones, the data from that we share with An Garda Siochana, and then it's up to them to find them and to bring prosecutions. We would like prosecutions in this area.
"I think they have very good data in terms of where the drones could be coming from and they're investigating that.
"The maximum sentence somebody can get – and I think people need to be aware of this – is up to seven years.
"In the UK they have increased that to a maximum life sentence for people that are flying drones over an airfield.
"Getting the system in place to take drones down is something that would be good for the State and increasing the sentencing so that if people are breaking the law – and they are breaking the law if they fly a drone near Dublin airport or any airport – there needs to be draconian sentencing in place to stop people."