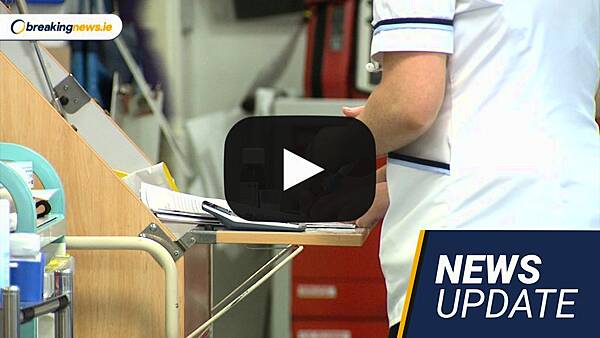 Euro zone interest rates
Interest rate hikes from the European Central Bank (ECB) are starting to be felt in the Irish mortgages market, however, rates here remain the third lowest in the Euro zone.
According to the latest figures from the Irish Central Bank, these increases from the ECB are having a knock-on effect here, raising the average interest rate to 2.69 per cent in December from 2.57 per cent in November.
Despite this, the Irish figure remains below the Euro zone average of 2.95 per cent – the highest the rate has been since at least August 2017 and over double the rate from this time last year.
Hospital assaults
At least 10 assaults happen at Irish hospitals every day, an Oireachtas committee has heard.
Representatives for the Irish Nurses and Midwives Organisation (INMO) appeared before a Joint Committee on Health on the Welfare and Safety of Workers in the Public Health Service on Wednesday, calling for greater supports to ensure the safety and welfare of its members.
In her opening statement, INMO general secretary Phil Ní Sheaghdha told the committee that over 9,000 assaults occurred between January 2021 and October 2022 — almost double the figure recorded by the HSE.
Jozef Puska trial
A 31-year-old man accused of murdering school teacher Ashling Murphy in Tullamore has had his legal aid extended so his defence team can obtain expert reports from the UK.
Jozef Puska, of Lynally Grove, Mucklagh, Co Offaly, is charged with murdering the 23-year-old primary school teacher at Cappincur, Tullamore, Co Offaly, on the afternoon of January 12th, 2022.
Mr Puska is scheduled to go on trial at the Central Criminal Court on June 6th and the case is expected to last between three and four weeks.
Human trafficking trial
A human trafficking and prostitution trial has collapsed "due to unforeseen circumstances" but is expected to begin again before a new jury later this month.
Wednesday marked the 10th day of the trial of Natalia Nogueira Da Silva and Ivanilce (Lisa) Vailones Fidelis at Dublin Circuit Criminal Court. The trial opened two weeks ago and had been due to run for six weeks.
In opening the trial, the jury were told the State alleges the accused women trafficked two vulnerable Brazilian women for the purposes of exploiting them and taking advantage of their vulnerability "to such an extent as to cause the trafficked person to have no real or acceptable alternative but to submit to being trafficked".
The case was adjourned to Friday when it is expected it will be given a new trial date.