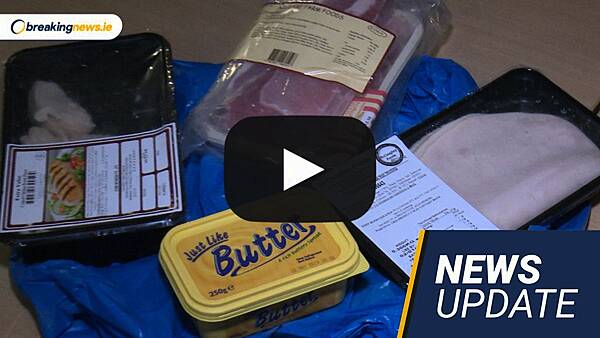 Northern Ireland Protocol ruling
The UK's supreme court has dismissed a challenge to the lawfulness of the Northern Ireland Protocol.
The legal challenge, brought by Brexit activists and leaders and former leaders of Northern Ireland's largest unionist parties, argued the protocol, which effectively left the North in the EU's single market, undermined its place in the UK.
However, the court unanimously dismissed the appeal, which had likewise been rejected by Northern Ireland's High Court and Court of Appeal.
However, following the verdict DUP leader Sir Jeffrey Donaldson said: "A solution to the protocol was never going to be found in the courts, but the cases have served to highlight some of the reasons why unionists have uniformly rejected the protocol."
Food bank usage
The number of parents using food banks and relying on food donations doubled last year, new figures show.
Almost one-third of parents in Ireland have also skipped meals or reduced portion sizes in the past year to feed their children, research from Barnardos reveals.
It comes as retail analysts Kantar revealed the average household now pays approximately €159 for a weekly shop, spending more money on fewer items.
The rate of food price inflation has reached a 15-year high at 16.3 per cent. It means a year's worth of groceries for the average household will cost €8,270 in 2023 — €1,159 more than last year.
Fiona Sinnott witness appeal
Gardaí have renewed their appeal for information on the 25th anniversary of Fiona Sinnott's disappearance.
The mother of one was last seen in Broadway, Co Wexford, on February 8th, 1998.
The 19-year-old had been socialising with friends in Butler's Pub. Gardaí note the last confirmed sighting of Fiona was at approximately midnight, when she left the bar.
They are anxious to speak with four people seen in the area that night.
Hospital assaults
At least 10 assaults happen at Irish hospitals every day, an Oireachtas committee has heard.
Representatives for the Irish Nurses and Midwives Organisation (INMO) appeared before a Joint Committee on Health on the Welfare and Safety of Workers in the Public Health Service on Wednesday, calling for greater supports to ensure the safety and welfare of its members.
In her opening statement, INMO general secretary Phil Ní Sheaghdha told the committee that over 9,000 assaults occurred between January 2021 and October 2022 — almost double the figure recorded by the HSE.