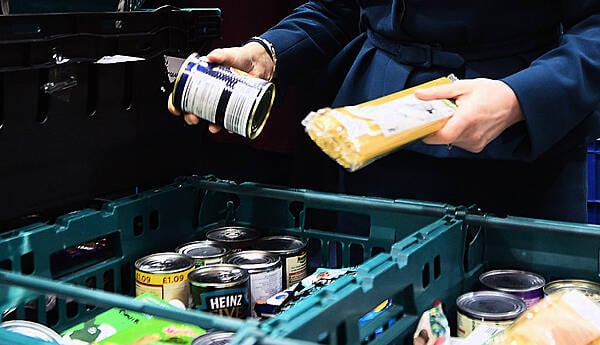 The number of parents using food banks and relying on food donations doubled last year, new figures show.
Almost one-third of parents in Ireland have also skipped meals or reduced portion sizes in the past year to feed their children, research from Barnardos reveals.
It comes as retail analysts Kantar revealed the average household now pays approximately €159 for a weekly shop, spending more money on fewer items.
The rate of food price inflation has reached a 15-year high at 16.3 per cent. It means a year's worth of groceries for the average household will cost €8,270 in 2023 — €1,159 more than last year.
More shoppers are relying on supermarket money-off vouchers and own-brand goods, according to Kantar.
Barnardos chief executive Suzanne Connolly said: "These findings align with Barnardos' experience of working with vulnerable children and families in communities across Ireland.
"We see far too many families, often one-parent families, really worried about being able to provide their children with enough food.
"Parents tell us that they are often going without food themselves in order to provide food for their children, or else are having to rely on others to get the food for them.
"Their hunger, or that of their child, is a constant and physical reminder of the financial pressure and of the hard decisions they have to make every day."
"This is taking an emotional and physical toll on parents across the country."
The Barnardos survey, conducted by Coyne research in partnership with Aldi Ireland, is the second survey on food poverty in Ireland, and finds that, between January and November last year, food poverty worsened for children and families across the country.
The Kantar research shows take-home grocery sales increased by 5 per cent in the four weeks to January 23rd. But while shoppers spent more, they actually bought fewer goods.
In January, the average price per pack rose 14.6 per cent, while the volume of groceries bought per shopping trip fell 13 per cent.
When the three months to January 23rd, were examined, price inflation was higher, with shoppers spending an additional €90.50 per household over that three-month period.
When that increase of 16.3 per cent is applied to the average annual spend on groceries of €7,111 until the end of the year, that sees a grocery bill increase of €1,159.
Kantar senior retail analyst Emer Healy said consumers continue to swap to supermarket own-label products to reduce costs.
"With consumers keeping a close eye on their purse strings after indulging during the festive period it's no surprise that shoppers continued to trade down to supermarkets' own label products this period, with sales rising 10.4 per cent, well ahead of a 4.7 per cent increase in branded lines".