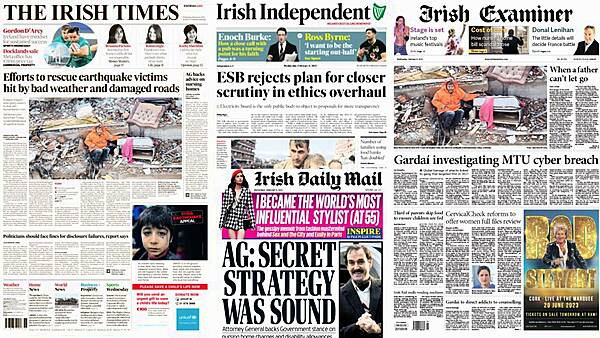 The carnage of the Middle East's earthquakes continues to be the focus of many of the front pages.
The Irish Times and the Irish Examiner carry the same photo, in which a father holds the hand of his dead teenage daughter as rescuers and civilians pick through the flattened building where she died on Monday.
The Irish Independent reports that the ESB has objected to Government plans to impose more scrutiny on senior figures in public bodies.
The Attorney General has concluded that a State legal strategy in relation to charging medical card holders for private nursing home care was "appropriate", the Irish Daily Mail reports.
Irish families face paying €1,100 extra a year for food, according to the Irish Daily Mirror, as the latest grocery inflation index was released.
The Irish Daily Star says a Wicklow community is "shocked" that a life-size statue of Our Lady has gone missing from a 100-year-old grotto.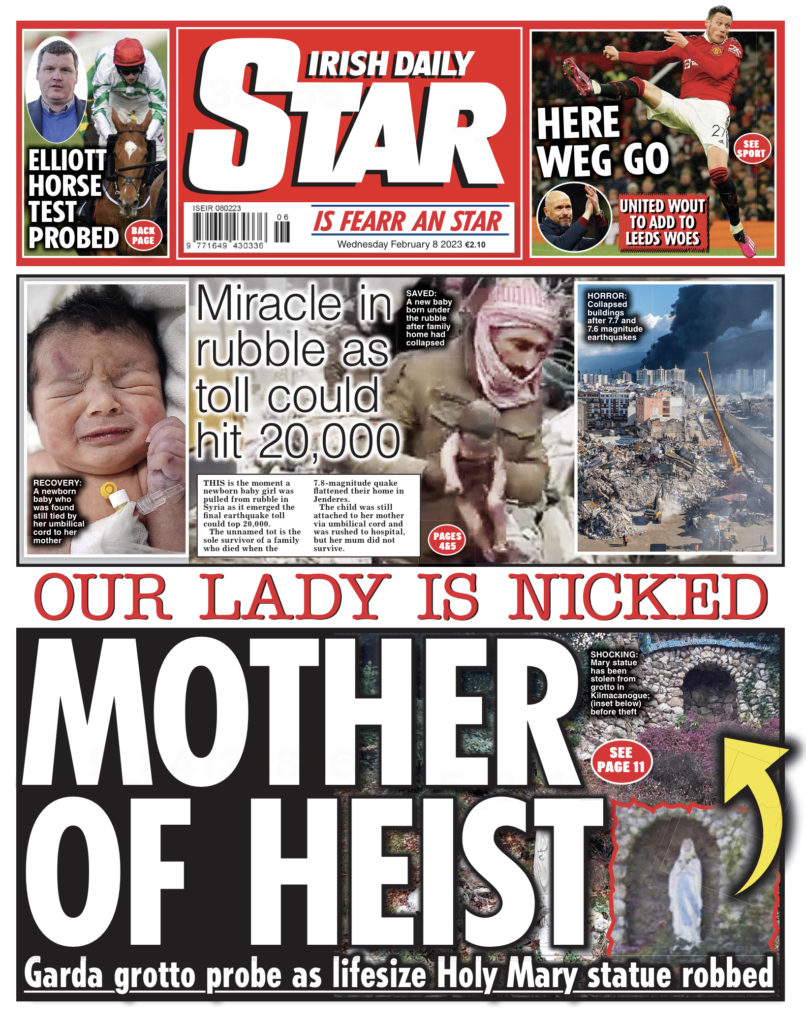 The Belfast Telegraph reports that former councillor Jolene Bunting "doctored" a wage slip and wrongly claimed to have been fined.
The British front pages also focus on the Turkey-Syria earthquakes, while others carry the sentencing of the "monstrous" rapist police officer David Carrick.
Reporting on the disaster that could have claimed as many as 20,000 lives, the i, The Times, The Independent and the Daily Mirror focus on a newborn baby who was found alive under the rubble still attached to her dead mother.
Wednesday's front page: Race to find quake survivors#TomorrowsPapersToday pic.twitter.com/kUBQ7sENDh

— i newspaper (@theipaper) February 7, 2023
Times: Life and death under the ruins #TomorrowsPapersToday pic.twitter.com/LZqBSfhGC1

— George Mann 🫧⚒️🫧 (@sgfmann) February 7, 2023
Independent digital front page: 20,000 feared dead in earthquake carnage #TomorrowsPapersToday pic.twitter.com/B6Xq6RKOsp

— George Mann 🫧⚒️🫧 (@sgfmann) February 7, 2023
Wednesday's front page: Born in earthquake hell#TomorrowsPapersTodayhttps://t.co/8ZxWUTLZ2t pic.twitter.com/uJ7O7HYjZE

— The Mirror (@DailyMirror) February 7, 2023
Carrick is the splash for The Guardian, The Daily Telegraph and Metro as the convicted rapist was given 36 life sentences for assaulting at least 12 women.
Guardian front page, Wednesday 8 February 2023: Rapist ex-Met officer jailed for life after years of attacks pic.twitter.com/G6dOXikURN

— The Guardian (@guardian) February 7, 2023
Daily Telegraph: Met rapist's 'lenient' sentence to be reviewed #TomorrowsPapersToday pic.twitter.com/UkpGKJCuQL

— George Mann 🫧⚒️🫧 (@sgfmann) February 7, 2023
Tomorrow's Paper Today 📰

'A SCAR ON OUR POLICE'

🔴 You used job to take monstrous advantage, says judge #tomorrowspaperstoday pic.twitter.com/LDYqfCCOxg

— Metro (@MetroUK) February 7, 2023
Elsewhere, the Financial Times writes that the British prime minister has broken up his government's business department to put a fresh emphasis on security, energy and science.
Just published: front page of the Financial Times, UK edition, Wednesday 8 February https://t.co/W6nHpRZNfP pic.twitter.com/HeLivu9eal

— Financial Times (@FinancialTimes) February 7, 2023
The Daily Mail says the Church of England is set to debate whether God should be referred to as "he" or by a gender-neutral term.
Wednesday's @DailyMailUK #MailFrontPages pic.twitter.com/pEjOOV5pe7

— Daily Mail U.K. (@DailyMailUK) February 7, 2023
The headteacher of one of Britain's top private schools made a distress call from the grounds of Epsom College to a relative hours before she was shot dead by her husband, reports the Daily Express.
Wednesday's front page: Distressed call…then school head and daughter shot dead #TomorrowsPapersTodayhttps://t.co/4ZstgFWFHr pic.twitter.com/OO0uITD29R

— Daily Express (@Daily_Express) February 7, 2023
The Sun's says Fawlty Towers is set to return to television screens with brand new episodes – 40 years after the final series aired.
On tomorrow's front page: Fawlty Towers to make a return – with brand new episodes 40 years after the final series aired https://t.co/HqpLnSsm6T pic.twitter.com/S49nEuWPgq

— The Sun (@TheSun) February 7, 2023
And the Daily Star has Britain is in the middle of a "chuckle crisis", with a study finding 42 per cent of respondents could not remember the last time they laughed.
Wednesday's front page…ha! https://t.co/VP0LXaREQB#TomorrowsPapersToday pic.twitter.com/MdelCRlq1x

— Daily Star (@dailystar) February 7, 2023