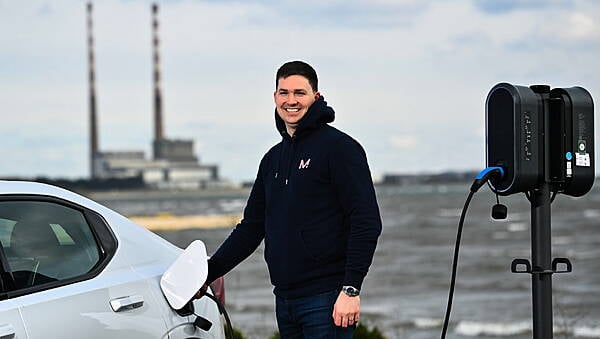 James Cox
The Irish electric vehicle (EV) market is in "extreme growth mode" according to the country manager of Monta, a Danish EV charging platform that recently entered Ireland.
Ricky Hill is the Ireland and Netherlands country manager for Monta, having recently taken on the latter role.
He told BreakingNews.ie: "What that means is I am the guy on the ground here, the presence for sales to talk to prospective new customers, being the face of the business in Ireland for PR, marketing etc."
Mr Hill explained that Monta's goal is to increase EV adoption, while also making the experience more accessible for drivers.
Their goal is to "get around the hassles" involved with EV charging to improve customer experience.
"We built an end-to-end charging solution which is quite unique in the industry, what that means is we have a backbend or a charging management system for people to operate it, that can be used for any type of hardware which is quite unique.
"It can be used on one site with one charging point, or 10,000 charging sites, it's a fully scaleable mode, and it can be very flexible. It can be adapted to any type of car park, working stations, public, for things like reservations, queueing, fleet management tools… charging at home."
Mr Hill said 80-90 per cent of charging in Ireland is done at home, with most people using charging points in their driveways.
However, Monta is looking to help people who live in apartments or simply do not have the opportunity to instal charging points at home.
"There is an element of people who don't have solutions, and we have solutions for apartment blocks, neighbourhoods, housing associations. It's all there."
The Government has targets of having 180,000 EVs on our roads by 2025 and 936,000 by 2030.
While Mr Hill said these targets are ambitious, he feels Ireland is on the right track, adding that Minister for Transport Eamon Ryan is doing a good job in his attempts to increase EV numbers.
"The targets are ambitious but achievable and as a country we're on a really good track."
At the moment, he said supply chain is the main issue with EV wait times standing at around six months due to the war in Ukraine and other global factors.
Mr Hill said roaming maps are one of Monta's key features. He said Ireland has some improvement to do here with operators currently not sharing data.
"Ireland as a market needs to mature, we're a couple of years behind some European countries where there's a word called interoperability which is all operators of charge points sharing them across maps. So if you're using Monta, and I'm using a different one, you have the same access to every charging point.
"We're not there in Ireland yet, we have what's called closed networks and that needs to evolve because it leads to a bad experience for EV drivers.
"We don't share maps, so you need three or four different accounts and that's a poor experience for the EV driver. I'd be pretty confident it will be solved soon… it's on the agenda for the Department of Transport.
"A better experience will help everyone as more people embrace EVs."
So what does a day in Ricky Hill's working life look like?
"Because we're in really extreme growth mode at the moment, not just Monta but the entire market, I'm out their speaking with customers all the time.
"Then I am trying to support them with their businesses, speaking to their end customers, articulating what Monta solves for them. A huge amount goes on supporting our customers, then for existing customers there's account management and that side of things.
"Then we have internal meetings and because we're expanding internationally a lot of country managers take on new portfolios, and now I have the Netherlands.
"It's about growth, growth, growth… supporting existing customers and speaking with prospective customers to explain what Monta can do for them. There is a big gap in knowledge around what software can solve for people because it's so new, there's a lot of education in the field at the moment.
"If you take a step back we're in the middle of the biggest global transitions of anything in our lifetime, the switch from fossil fuels to electric, not just on a car level but the entire energy grid. Electrifying everything causes massive issues with the grid, so how do we solve that?
"Within Monta we're a charging point management system. On one hand we're heating up the grid by enabling people to use more electricity, but we're also working with the grid on beta projects, so they can pause or stop charges when there are high levels like 10,000 at once. When there is a high level, and they're overheating they can cool it off.
"It's massively exciting to be electrifying, but we're also part of a company that is pioneering the solutions to the biggest challenges with the energy grid as well.
"There is twofold to what motivates me; I've always known I like to work on interesting stuff with smart people, but I find it very motivating where we are at the moment. We're in the middle of this huge energy transition, and I'm part of a company that is pioneering solutions for today and the next 40, 50 years. We're finding and testing solutions that have never been used before.
"Ireland is ahead of a lot of countries in Europe with charge points, but the Netherlands is the most mature market in Europe. In Ireland, we have 2,500 public charge points, over there they've got 105,000… they're everywhere, it's incredibly mature.
"It's great for me as I almost have an inside view of the blueprint where Ireland should be going, they have interoperability, nobody has an app they all have travel cards, and it can be tapped anywhere because of the interoperability.
"People have 100 per cent confidence they can plug in their car, tap to charge, it works, and they have a bill at the end of the month for usage. They also have different challenges because they are so far down the road with electrification that their grid is very demanding.
"We're going to build more wind farms to cater for this. We do need solutions like Monta is creating around grid balancing and so on for that.
"I see a mature market and how it looks on that end, but also the challenges they are facing due to the fact they are so mature."