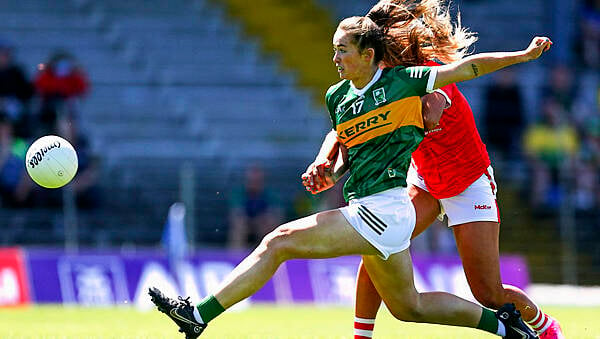 Michael Bolton
At just 19 years of age, Paris McCarthy has achieved incredible success across a range of sports, and continues to show her abilities across the world.
This week, it was announced that McCarthy would be making the move down under to join Sydney Swans, making her the latest high profile player to join the large Irish contingent in the AFLW.
While this will see her miss Kerry's championship campaign, as well as leaving her basketball scholarship in America with East Tennesse state, McCarthy is realising the new experience that awaits her in Australia this summer.
The Castleisland Desmonds youngster was a prodigy with St Mary's in the Women's Super League, which caught the attention from American collages.
Journey in America
"It had been on my mind for the last year, but obviously I didn't head into America to go play basketball. I said I might wait a couple of years to see how America goes first, and then I'll decide if I'd like to go to the AFL.
"I went down South to play Division One basketball, and I was the only international on my team. So that was kind of hard. I suppose it was a hard experience and I just thought, It would be better if I could just go somewhere where be more happy and stuff.
"We trained for like 4 to 5 hours a day or days literally were just basketball, like there was no freedom at all.
"Most of the time you'd have to ask for permission to go places or even the weekend. Most girls couldn't see their families and if they wanted to, they'd have to ask for permission."
Initially, the Kerry woman was making a big impression with her performances on the court. However, a change in manager saw her opportunities limited, with the hectic schedule in America a deciding factor in her decision to move to Australia.
" I suppose I just never got a chance. I do think it's down to the fact that I wasn't American, and I was coming from Ireland.
"A week before I got to America, my head coach that had recruited me got fired. So a new head coach came in, and I suppose, every coach has different mindsets, They might see stuff in different ways, but she had her team from the start.so, it was tough.
"I hadn't been really thinking about it for the last year, but then the last couple of months since December when the basketball here wasn't very fun, I decided to just see my different options."
While her basketball experience in America has come to and end, McCarthy will continue her progress in the sport alongside her AFLW campaign, with the continuation of her progression in basketball a key reason for joining the Sydney Swans.
She also hopes to continue her education in Australia, having studied Business in America.
"I have been speaking to the head coach of one of the teams and the WNBL, so I'll have a trial when I go over as well for that, so hopefully it all works out.
"I still want to play basketball because I want to be able to show that you can play both at the same time because like a lot of girls do that and in the AFLW.
In her first year with the senior Kerry side, the 19-year-old was a key part of a Kerry side that won a National League title and reached the All-Ireland final, losing out to Meath.
In McCarthy's absence, Kerry have gone from stride to stride, and will face Galway in the Division one final.
As McCarthy will be making her trip back home to Ireland, she won't be part of their Championship campaign, as she prepares for pre-season with the Sydney Swans.
Despite moving to Australia, she has thanked her joint managers Darragh Long and Declan Quill for their understanding in the situation, and vows to come back stronger to Kerry in 2024.
"I suppose just at the timing that they want us to go, it's probably not the best idea to just come back in and be there for like a month or two because the girls that have been there all the time have been training .
"I really wanted to be with Kerry because, you know, I look at football, I've been practising all the time over in America. So yeah, that's kinda hard. I'd love to play both.
"I'll still be there supporting the girls and the National League final. Darragh and Declan have been the best coaches I've ever had, and they've been very supportive about it.
Mentality
At such a young age, McCarthy will be aiming to make another good impact in a new sport. Very few athletes have the elite mentality to back themselves in different sports.
If three sports wasn't enough before reaching her 20s, McCarthy revealed her ambitions to compete in the Olympics in the future, and explains why she believes she can succeed at anything she puts her mind to.
"I personally think nothing is impossible to anybody. I think that if you put your mind to it, you can do anything.
"There's this rule tha you can't really be a Jack of all trades, but I think you can. I still have a couple of big goals that I want to achieve. I guess, to go to the Olympics, and then I want to go professional basketball in America.