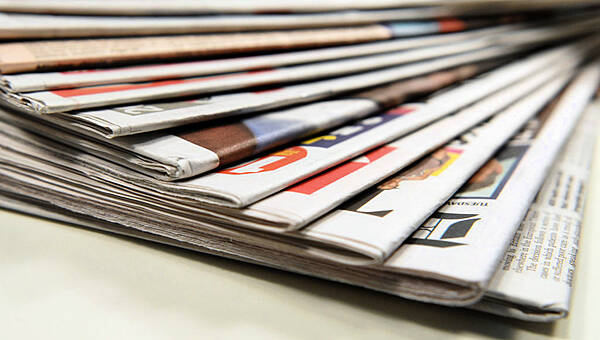 Ireland's Grand Slam glory dominates Sunday's newspaper front pages.
The Sunday Independent leads with the historic victory for Andy Farrell's side.
Tánaiste Micheál Martin has said treatment of small landlords is 'not fair', the Business Post reports.
Our front page today. Pick up a copy in stores or subscribe at https://t.co/u5ystSGUtr for these stories plus:

🗞️ Ireland's TikTok conundrum

🗞️ Divisions over opening up of Trinity academics' club

🗞️ What next for Silicon Valley Bank's Irish customers? pic.twitter.com/gR4IbM8C5V

— Business Post (@businessposthq) March 19, 2023
A picture of Taoiseach Leo Varadkar celebrating Ireland's Grand Slam win in Washington makes the front page of The Sunday Times. It also includes a story on teachers living 'in fear of mistakes in gender wars'.
The front of tomorrow's special souvenir edition of The Sunday Times after Ireland secured a historic Grand Slam

Subscribe to read it all online here – https://t.co/xVv4SY8b73 pic.twitter.com/LNF5dQ2Hgp

— The Sunday Times Ireland (@ST__Ireland) March 18, 2023
The Irish Mail on Sunday leads with a report that the State has "underspent" on housing by €1 billion ahead of the much-criticised ending of the eviction ban.
In today's paper:
– State's €1bn underspend on housing
– Late Late showdown to replace Ryan
– €500k fine for rural broadband firm
– 'My letter that left Ian Bailey with no
choice but to leave'
And lots more … pic.twitter.com/XSm1RV6cEM

— Irish Mail on Sunday (@IrishMailSunday) March 18, 2023
The Irish Sun on Sunday leads with a full-page tribute to Ireland's Grand Slam winning team.
Today's Irish Sun on Sunday front page. pic.twitter.com/6yveXgbe8x

— The Irish Sun (@IrishSunOnline) March 19, 2023
Suella Braverman's plans to deport migrants to Rwanda feature on several of Sunday's UK newspaper front pages.
No migrants have been relocated to the country since the deal was signed last April by Ms Braverman's predecessor, Priti Patel, but the Sunday Telegraph and Sunday Express report that the UK home secretary plans to get flights running by summer.
🗞 The front page of tomorrow's Sunday Telegraph:

'Migrant flights to Rwanda 'by summer"#TomorrowsPapersToday

Sign up for the Front Page newsletter:https://t.co/x8AV4OoUh6 pic.twitter.com/fhRRwrDrG1

— The Telegraph (@Telegraph) March 18, 2023
Sunday Express front page: First Rwanda asylum flights 'this summer'https://t.co/nEJ4XOduAn#TomorrowsPapersToday pic.twitter.com/7Jqr2sssRa

— Daily Express (@Daily_Express) March 18, 2023
The Sunday Mirror speaks to refugee Rasheed Baluch, who was housed by Gary Lineker, after the Match of the Day presenter returned to BBC sports coverage following a row over his criticism of the policy.
Sunday's front page: Britain should be proud of Lineker #TomorrowsPapersToday https://t.co/ENIahmp6Fh pic.twitter.com/OSQjlDc4ps

— The Mirror (@DailyMirror) March 18, 2023
The Observer says former UK prime minister Boris Johnson is preparing to defend his actions during the Partygate scandal ahead of his appearance at the Commons privileges committee on Wednesday.
Tomorrow's front page pic.twitter.com/3E1VQro0aS

— The Observer (@ObserverUK) March 18, 2023
The Sunday People reports on claims that judges are being advised to lock up fewer offenders because of overcrowding in prisons.
Sunday's front page: Call this justice? #TomorrowsPapersToday https://t.co/qsvVId9WbA pic.twitter.com/rkaZCz3hxu

— The Sunday People (@thesundaypeople) March 18, 2023
And the Daily Star on Sunday speaks to former footballer Neil Ruddock about how losing seven stone through life-saving gastric surgery has improved his sex life.
Sunday's front page: Losing 7st turned me into a stud muffin👀#TomorrowsPapersTodayhttps://t.co/VYwAcnmGeO pic.twitter.com/15UCfIalpP

— Daily Star (@dailystar) March 18, 2023